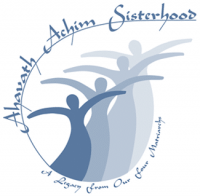 A Woman's Legacy Lives On…
…as a part of a warm, dynamic organization
…among woman of all ages with diverse experience, talents, and interests
…in our synagogue, community, and the Jewish world
Your Sisterhood Membership will nurture…
Year-Round Programming

: Latte and Learn, Naomi's Book Club, Rosh Chodesh Discussion Group, Mah Jongg, cultural outings to plays, museums, and more

Congregational Enrichment

: Rosh Hashanah apples and honey, Synagogue Directory, Worship in Pink Shabbat for Breast Cancer awareness, Sisterhood Shabbat, and Synagogue beautification

AA Youth

: Kesher@AA (religious school) support, gifts for consecration, B'nai Mitzvah, 7th grade graduation, and confirmation; scholarships for Jewish camps, programs, and Israel study; and holiday packages for college students

Community Outreach

: Rebecca's Tent – Shearith Israel, Zaban Paradies Center, William Breman Jewish Home, and Jewish Family and Career Services
From Generation to Generation and From Strength to Strength: Join Sisterhood Today!
Every woman counts for Sisterhood to grow and thrive. Basic membership dues are $45, but we encourage you to join at a Chai-er level. Your generous dues and donations are vital for Sisterhood to continue to offer programs and projects that strengthen and sustain our Jewish values.
Z'havah is the young women's initiative of the AA Sisterhood that offers programs and activities for those who are looking to share common interests. We celebrate and explore our Jewish identities through a series of programs that focus on fun, education, and social action.
For more information, please contact the Z'havah Co-Chairs:
Rachael Joseph: rachaelfjoseph@gmail.com
Allison Feldman: allfeldman@yahoo.com
Centennial Year Slate of Officers 2019 – 2020:
Co-Presidents – Allison Feldman and Rachael Joseph
VPs of Programming – Shelly Dollar and Barbara Ribner
VPs of Centennial Year 79th Donor Celebration Program – Debra Elovich and Judy Marx
VPs of Centennial Year 79th Donor Celebration Fundraising – Barbara Nathan and Jennifer Rosenfeld
VPs of Membership – Patsy Little, Rebecca Sokol, and Rina Wolfe
VPs of Torah Fund – Fran Galishoff and Amy Landrum
Corresponding Secretaries – Janet Kupshik and Vickie Reisman
Treasurer – Laura Nelson
Recording Secretary – Gabby Spatt
Education Chair – Avital Cohen
Social Action Chair – Leigh Boros
Parliamentarians – Debra Elovich and Judy Marx
Z'havah Co-Presidents – Marni Goldman and Aurélie Weinstein