Greening Group's Spring Recycling Event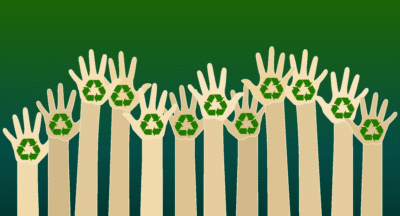 As you clean out the chametz, why not clean out the old paint cans, electronics, and Styrofoam? These items CAN be responsibly recycled, re-purposed, and reused. Recycling can help prevent air and ground water pollution and keep the islands of the Pacific Ocean free of plastic. So, bring your tricky recyclables to the AA – the Greening Group will take the items to CHaRM (Center for Hard to Recycle Materials) for proper recycling and disposal.
What can I bring?
Paint, Styrofoam, packing peanuts (in bags please!), pesticides, herbicides, etc.
Electronics: TV's, computer monitors, small appliances, printer cartridges, electric cords, etc.

Fee:  $15 per TV or computer monitor

Bulbs, batteries, sheet plastic, scrap metal (incl. fluorescent tubes up to 8 feet), car and rechargeable batteries, bubble plastic, etc.

Fee:  50 cents per fluorescent tube
Where do I bring it?
Look for the blue bins in the parking lot, on the west side. Please deposit smaller items in the bins or bag or box them. Stack larger items nearby. Help support this effort – donation collection envelopes are in the AA and Ahava lobby at the front desk. Please consider making a flat donation of $5 if you drop off items that do not require a fee.
Questions? Email aagreening@gmail.com.
Details
Start:

April 12

End:

April 15

Event Category:
Related Events
January 19, 2019 @ 1:00 pm

-

2:30 pm

January 21, 2019 @ 9:00 am

-

12:30 pm

January 27, 2019 @ 9:30 am

-

3:30 pm