Greening Group Recycling Event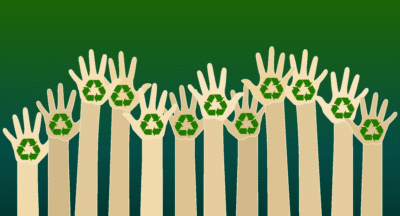 In an effort to improve our synagogue's ecological footprint and encourage a "green" state-of-mind among our community, the Greening Group will be collecting hard-to-recycle materials everyday (except on Shabbat) from October 11 to October 14. The materials will be delivered to CHaRM (Center for Hard to Recycle Materials) for proper recycling and disposal. Think before you toss, save these items, and bring them to AA – we'll do the rest!
Paint, Styrofoam, and Household Chemicals
[packaging Styrofoam, peanuts (in bags!), pesticides, herbicides, etc.]
Fee: $2 per can of paint
Electronics
(TVs, computer monitors, VCRs, small appliances, printer cartridges, electric cords, etc.)
Fee: $15 per TV or monitor
Bulbs and Batteries, Sheet Platic, and Scrap Metal
[light bulbs (including fluorescent tubes up to 8 ft), car and rechargeable batteries, bubble wrap, etc.]
Fee: $.50 per fluorescent tube
Drop-off: Look for the blue bins in the parking lot. Please deposit smaller items in the bins or bag or box them – stack larger items nearby. Money collection envelopes are in the AA and Ahava lobbies at the front desk – feel free to make a flat donation of $5!
Questions? aagreening@gmail.com
Details
Start:

October 11

End:

October 14

Event Category:
Related Events
January 19, 2019 @ 1:00 pm

-

2:30 pm

January 21, 2019 @ 9:00 am

-

12:30 pm

January 27, 2019 @ 9:30 am

-

3:30 pm